I've been tagged! Skye from
Neathering Our Fest
tagged me and asked me 11 questions. The rules state that I need to tag 11 bloggers and ask them 11 questions. So first things first, here are the rules:
you must post the rules.
answer the 11 questions that the tagger posted for you
then create 11 questions to ask the people you've tagged.
tag 11 people and link them in your post.
let them know you have tagged them.
So I'm breaking the rules. I would rather be cuddling my boy than thinking up 11 questions and tagging you. So, if you want to answer the questions Skye asked me, feel free in the comments!
1. have you ever gone back and read your very first blog post? what is one thing that makes you cringe and one thing that makes you smile?
I've not...and actually, my very first blog was called "This is what I do". It grew into Leanne...the Walker and Life as Wife. My very first blog on any of these blogs was written the day before I started graduate school. It is very hard to believe how drastically differently my life was back then. My first post officially over here, back when we were the LA Johnstons was this guy alerting all of our followers that I'd officially moved over to Blogger. This post is a random update on our life. My first thought when seeing this post is how skinny I was and how cute my short hair was... I'm threatening to go short again for the summer, but Jarrod digs the long hair.
2. tell us all about your favorite pair of shoes. where did you get them? what did you buy them for? what is your favorite memory while wearing them?
This is definitely a toss up. The first pair would definitely be these. I purchased them before Jarrod and I got married because they were perfect - they were our wedding colors and they were pretty ballet flats. I didn't have the money for them because I was paying for our wedding while paying for seminary, but I knew I had to have them. It's been 3 years since I bought them and I wear them at least once a week. My favorite time wearing them is definitely my bachelorette party!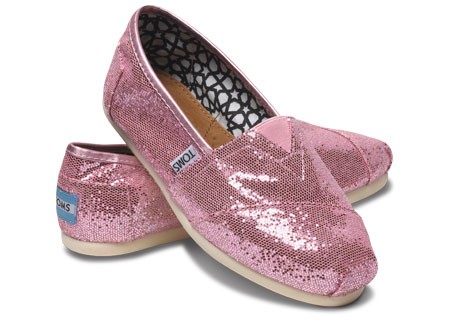 via www.hypursuit.com
The second pair are my sparkly pink TOMS. They are awesome, comfortable, and pink. I wear them all the time...sometimes with socks, which drives Jarrod crazy, but I really like socks. :-)
3. if you could go back and do one thing you didn't do, what would it be?
Study abroad. I didn't because of finances and wish I had. I got myself into enough debt to get my undergraduate degree, I might have studied abroad as well. I was also too scared, but I think it would have been an incredible experience. At the same time, it would have altered the path of my life, and my life is pretty awesome, so maybe not...
4. what is your go-to beverage first thing in the morning?
Very first thing I do is refill my water bottle because it's empty from middle-of-the-night feedings. After that, I drink a green smoothie. I don't really drink anything else other than a green smoothie for breakfast and water throughout the day. Boring, I know.
5. do you sleep with the fan on or off?
On. Always on. Whether I like it or not, it's on. Good thing I like it. :-)
6. what is your favorite thing about the home you currently reside in?
We have a great open floorplan. We have a large eat-in kitchen with a bar to the living room. It's very open and we love that. We enjoy having people over and the flow is great for that.
7. money aside, you get to plan the absolutely perfect date. spill the details.
Gosh, I've really always been lame and now that I have a baby I think I'm turbo lame... If money really isn't an object, I'd love to take Jarrod to Puerto Rico and go to the bio bay again. We could sleep all day, go out for a nice Puerto Rican dinner and then kayak the bio bay. It's gorgeous, romantic, and a once in a lifetime experience.
8. do you get nervous pulling your car into the bay when you get your oil changed? or is that just me?
Completely! I'm not a girly girl who makes her husband do everything (I just cleaned the kitty litter and took out the trash) but I do have him take my car to get the oil changed...
9. the eternal debate: mac or pc?
Mac. Without a doubt. I've actually never owned a PC and I've been using Apples since I was about 8 years old. I currently have a MacBook Air for work and a MacBook Pro at home.
10. what habit do you have that you would pay someone to help you get rid of?
Lack of self-control. I don't have any self-control at all. I can't keep oreos in the house. I wish I could control my incessant need for immediate gratification.
11. what is one habit you wish you could naturally pick up and have for the rest of your life?
Patience. Is that a habit? I'm going to say it is. I am terrible with patience. So much so that I multi-task EVERYTHING. Having a child has helped, but I still do a lot of things at the same time. I wish I was more patient to remember than everything else can wait - do one thing at a time...I'm going to start practicing that now and cuddle our sweet man!