I started this post the week prior to Wesley's birthday and now it's the week after... Things have been very busy in our world! Besides normal busy-ness, we had house guests for Wesley's birthday and I am out of town at a conference this week. I didn't prepare posts before I left, so I'm trying to play catch up now. Please forgive me!
My boy is one year old. I don't know how this is possible as it seems like just a week ago
we were waiting his arrival
. It feels like a minute ago
I was in labor
. On the other hand, it feels like a lifetime has gone by. We are different because of our little man!
Dear Wesley,
My little man, you are now officially one year old! I cannot believe we've made it a whole year. It feels like the blink of an eye. You now have 3 teeth - an upper tooth broke through one week before you turned one. you pull up, stand, and walk while pushing a walker, but are not walking unassisted yet. You are such an incredibly fast crawler that this doesn't surprise me at all. I know you will be walking very soon.
You now wave with ease and do it appropriately. You are so proud of yourself! You also clap all the time and do it between bites at dinner, whenever anyone says "yay!" and randomly to make us smile. You have figured out that clapping entertains people so you'll do it for crowds, especially when you aren't the center of attention. You also finally picked up on baby sign. We'd been trying to teach you "more" with no success for about 5 months. Finally over the Christmas break, you got it! It was like you knew it the whole time and were just waiting to impress us with your skills.
You are the happiest kid ever. You love crawling and moving, banging and music. You started dancing this month and it's amazing. You babble and sing, mimicking our sounds and throw fits. You are showing us how stubborn you are - you're a strong-willed kid! We are working on setting boundaries, not giving you everything you want, and allowing you to throw fits without giving into them.
You went through a difficult season of eating for a while. You wouldn't eat anything. Thankfully that has mostly ended. Again, we didn't give into it and continued to feed you healthy foods. You love chili, apple sauce, yogurt, puffs, and rice. You'll eat anything with potatoes, casseroles, and bread. You LOVE carbs! We work on fruits and vegetables, tossing them into stuff you like to fool you into eating it.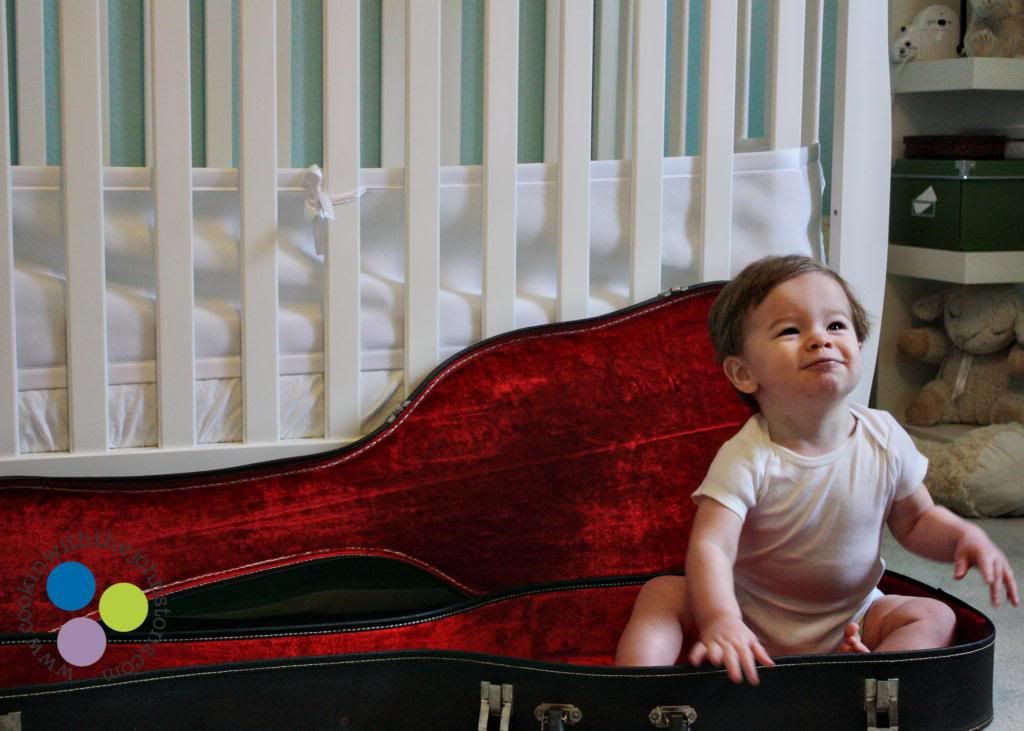 This month you got the stomach flu. It was terrible. You were sick for about 20 hours straight on your dad's 31st birthday. I stayed home with you for two days. It was very sad and a tough day for both of us, but I was thankful for the opportunity to be with you. Thankfully you were fine and back to school within a few days.
This month we celebrated Christmas as well. It was a magical time and such fun to be with you. We were so thrilled to spend nearly two full weeks with you. We were lazy and played all day most days. It was very cold so we didn't get to play outside much, but we did take you shopping and watched movies at home. Christmas was really wonderful and we loved sharing the special time as a family. Your dad said it was the best vacation we've had since our honeymoon to Disney World. We will definitely plan staycations more often!
Your dad and I give thanks for you each day. You have brought more joy into our lives than we could have ever imagined one year ago. We cannot imagine loving you more and cannot imagine our lives without you. I am so excited and proud to be your mom. We love having you around and are really excited to share in life with you.
Love,
Mama and Daddy