Literally. My husband can rock a guitar wearing a v-neck, dark washed denim, and Toms or Chuck Taylors. He is an incredibly talented worship leader and I love listening to him sing around the house. But that's not what I'm talking about today...Today I'm linking up with Amanda at
A Royal Daughter
and Rachael at
The Growing Tree
to talk about why my husband rocks.
Because he is so funny.
One of the first things I noticed about my husband is his humor. He's witty and has a smart sense of humor. Growing up in New Jersey, I was surrounded by biting sarcastic humor. Jarrod's humor is edifying and intelligent. He makes me laugh all the time but never attacks through humor.
Because he heals my past.
Jarrod's parents are still married but mine divorced 15 years ago. They were unhappily married long enough that it created some scars in me. While I've worked hard to overcome that, it creeps into my marriage every once and a while. We all have a tendency to do what we know and a lot of what I know is broken. Jarrod acknowledges that but helps me move past it. He doesn't see me as broken. It's a tough place to live - between acknowledging the hurt but not living there - and Jarrod does a perfect job.
Because he supports me.
Before we started dating I had all but given up on
finding the one that I could fall into
. I'd dated seriously before, thought I'd get married, and it didn't work. So I made a mental list of the qualities I was looking for in a life partner. The list included a lot of higher education, comfort in my career drive, progressive theology, membership in the United Methodist Church, and a plethora of other qualities including age, attractiveness, and personality. Jarrod knocked all of my expectations out of the park. The biggest being - he supports my career. He comes with me when he can, assists when asked, and plays the role of Mr. Leanne with grace.
Because he's the best father.
Wesley adores his daddy. Jarrod has patience and firmness with Wesley, but knows when it's time to play. Wesley has learned what it means when Jarrod says, "I'm going to get you!" Wesley's response is a lot of giggling and "running" as fast as his little legs will carry him. Jarrod will chase Wesley until Wesley falls over in a fit of giggles. There is tickling, laughter, and it warms my heart.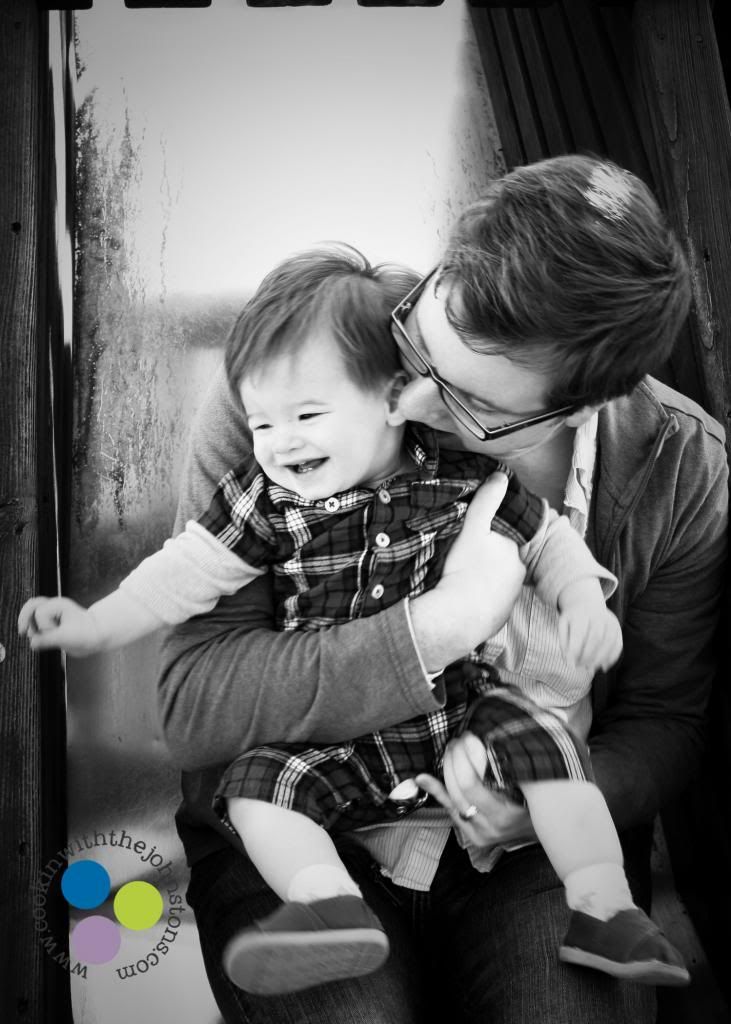 Jarrod also cares for Welsey in practical ways. We cloth diaper which means every day Wesley brings home a wetbag of dirty diapers from school. They are incredibly gross and my gag reflex cannot handle it. I could suck it up and empty the bag, but I don't have to. 9 times out of 10, Jarrod takes care of it. He makes sure that Wesley's backpack is packed for school each morning, knows the names of each of Wesley's teachers and classmates, and makes sure that Wesley is cared for during the day at school.
Because he's a great life partner.
Jarrod makes sure that I relax. I struggle with downtime because there's always something left to do. The house is never clean enough, work is never done, and there's always something I feel I should be doing. So Jarrod forces me to set boundaries so that I relax from time to time. He lets me watch what I want to watch on TV and doesn't subject me to the UFC or zombie shows. He's been known to watch the Bachelor, Bachelorette, and even enjoys Bachelor Pad because he knows it's brainless downtime for me.
Although not often enough, at least every few days I take an inventory of how fantastic my life is. I take a mental snapshot of Wesley and Jarrod and thank God for my beautiful life. It's not perfect, it's incredibly chaotic, and it's moving way to fast, but it's awesome!