In honor of my birthday next Monday I will be sharing some interesting wish lists this week. Yesterday I shared some of
our favorite kitchen gadgets
that either we have or we want. Today you get Wesley's wish list, toys and useful items for a toddler. On Thursday it's Jarrod's turn to share what is on his wish list. By Friday you'll be waiting on the edge of your seat for my wish list. And I promise that you won't be disappointed!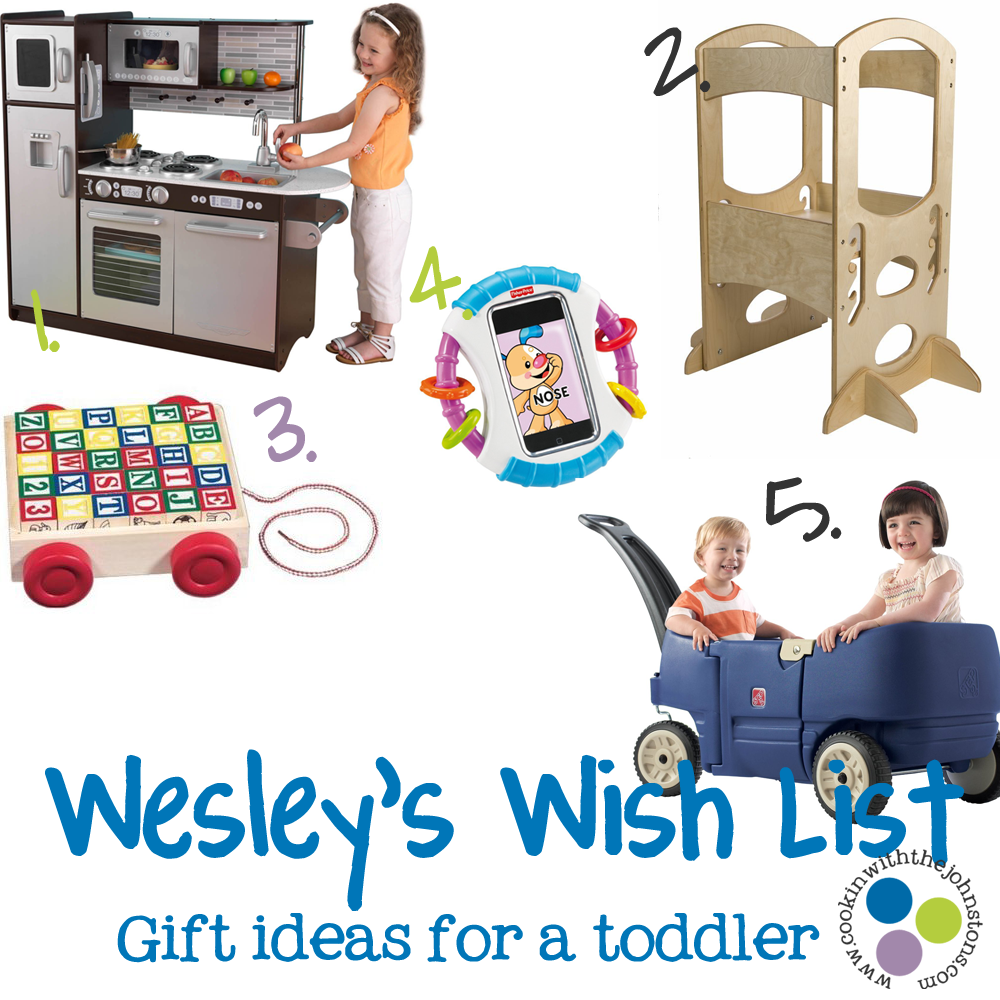 1.
Play Kitchen
If you've spent any time around here you know that Jarrod and I love to cook. We hope to pass this love down to Wesley and a play kitchen is the best way to do that. Because we don't have the incredible skills that
John and Sherry do
, I imagine we'll need to purchase a play kitchen. We want some neutral that won't make our house look like Toys R Us.
2.
Learning Tower
Many years ago I was a nanny for an 18 month old boy. He had one of these learning towers and it was fantastic. He'd play at the counter while I made him a snack. It was one of the best things I'd ever seen.
I definitely want one for Wesley sooner than later. Perhaps we'll make one like
Heather
did!
3.
ABC Blocks
Wesley LOVES balls but I think it's time for him to have some fun blocks to play with. These wooden blocks look like they'd be awesome for stacking and throwing. Let's be honest, Wesley is going to throw them. Maybe he'll learn how to spell in the process...
4.
Fisher-Price Laugh and Learn Apptivity Case
The first time I saw this Wesley was about 5-6 months old. A friend of mind had a 1 year old and he played with her phone quietly in this case while we had coffee. I couldn't believe how entertained he was! I came home and immediately told Jarrod we needed to get one of these. He vetoed saying that Wesley didn't need any "screen time." Wesley wasn't interested in our phones at that time so I dropped the issue. Fast forward 6 months or so and Jarrod teaches Wesley to watch cartoons (PBS) on his Kindle. This toy is now fair game because Jarrod uses screen time way more than I do!
5.
Wagon for Two
A few weeks ago a friend of mine and I took our kids to the zoo. We talked about how we wished we had a wagon so we could pull them in that rather than using two strollers. This one looks like it would be great for the zoo, walks to the park, or other outings. It'd be a good size for Wesley and a friend or Wesley alone with a bag of his stuff!
Links are Amazon Affiliate links, but all opinions are completely mine. I was not provided with any products but would be happy to review something if you want to send it! ;-)