If you follow me on
Instagram
, you got a sneak peak last week of how we're transforming Wesley's nursery into a big boy dinosaur room.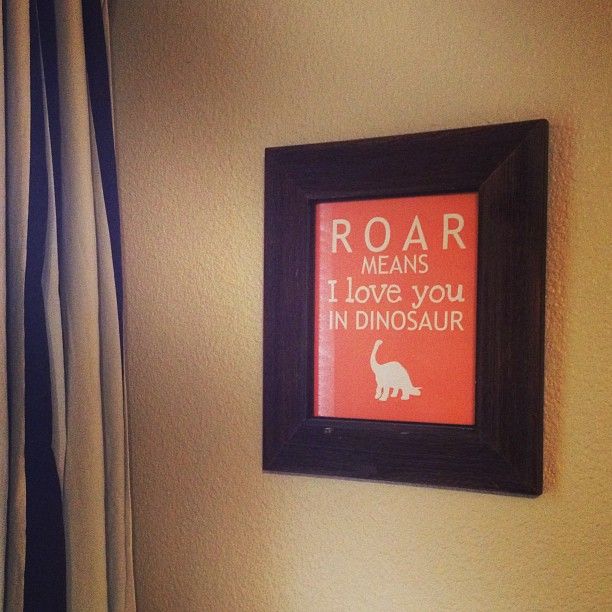 We're doing it on-the-cheap and not too cutesy, which has forced me to be even more creative (and cheap!) than usual. Similar to when we had
Wesley finger paint canvases for Christmas
, we decided to transform a canvas into a dinosaur centerpiece. We had a canvas on had that was the perfect size, but the wrong colors. So I primed it 4 times. It took forever, but I was left with a (free!) blank canvas ready for whatever we wanted to do with it.
Jarrod and I decided we wanted it to say "Roar!" It's what Wesley says all the time and we figured with our limited artistic abilities, it would be fairly simple. We chose colors that would fit within our color palette we chose for the room. One trip to Wal-Mart and $1.85 later, we were good to go! We used small bottles of acrylic craft paints and paint brushes we already had in our supply.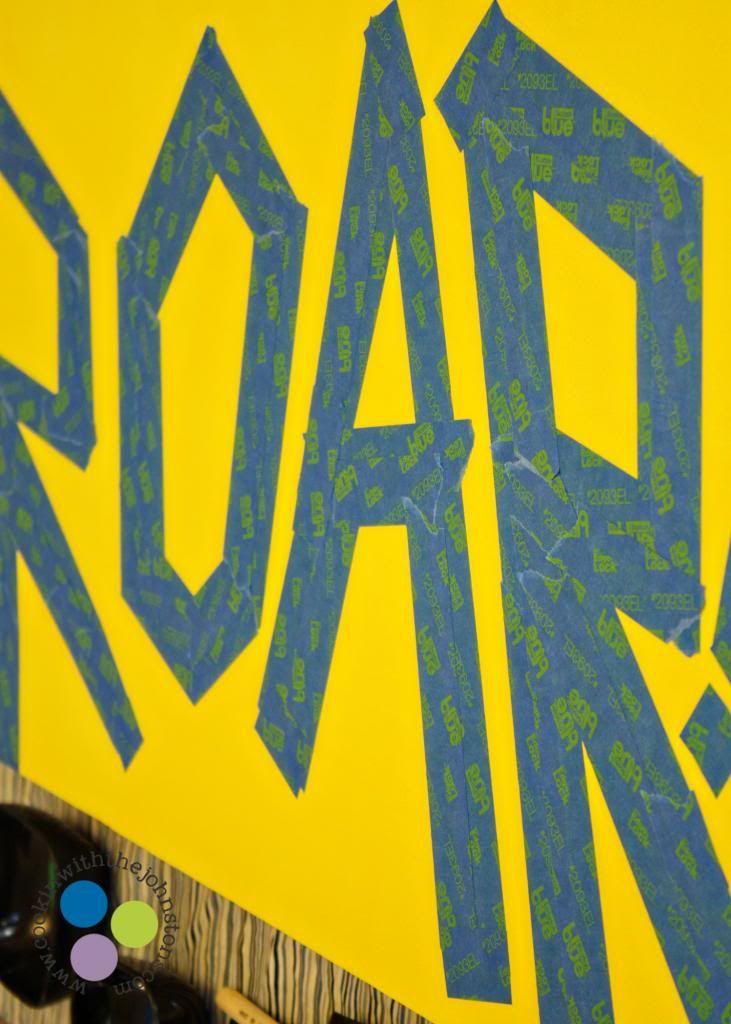 I took my blank canvas and painted it bright yellow. It took 2 coats (on top of my 4 coats of primer) for it to be the coverage and perfect shade. Once it was completely dry, I passed it to Jarrod to stencil it with painters tape.
We used blue painters tape because it's what we had on hand. Jarrod decided to go for a funky and angular look. He taped off the letters ROAR and an exclamation point. He started by using one piece of tape to judge how large to make the letters. Then he went back and made the letters thicker with more tape. The letters ended up being about 2 tape-widths thick.
Once we had the tape on the canvas, we made sure it was really stick by scraping it down with our fingers. It was a good enough seal. Because we were making something fairly abstract, we were okay if the seal wasn't perfectly clean. Had we been more concerned with that, I would have gone over the edges of the tape with the background color to seal it.
It took Jarrod about 20 minutes to get the tape on the canvas. We decided to have our painting session at the kitchen table. Jarrod covered the table with an old fitted sheet and I got out the paint brushes. The fitted sheet was perfect because it didn't move around and protected the table all the way around from wandering paint-covered fingers!
And then we waited. We had the paint out and ready, the table covered, and the canvas set. Wesley napped for almost 2 1/2 hours, leaving us very impatient! As soon as he got up, we got him a quick snack and stripped him down for some painting fun!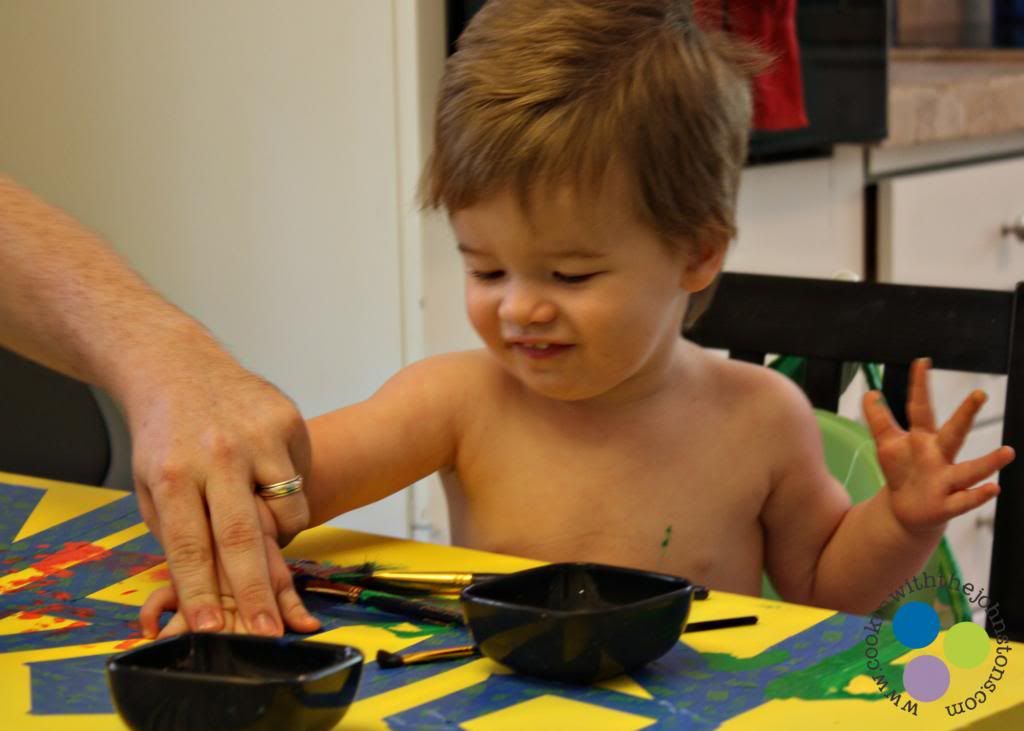 He was a little timid, but with some help from his Daddy, he got right into it! We tried to get him to use the brushes or his fingers. He preferred to do both. Jarrod and I made sure to cover the tape so that the letters were clear. Wesley didn't seem to mind us helping and eventually got right into it... getting his hands covered in paint!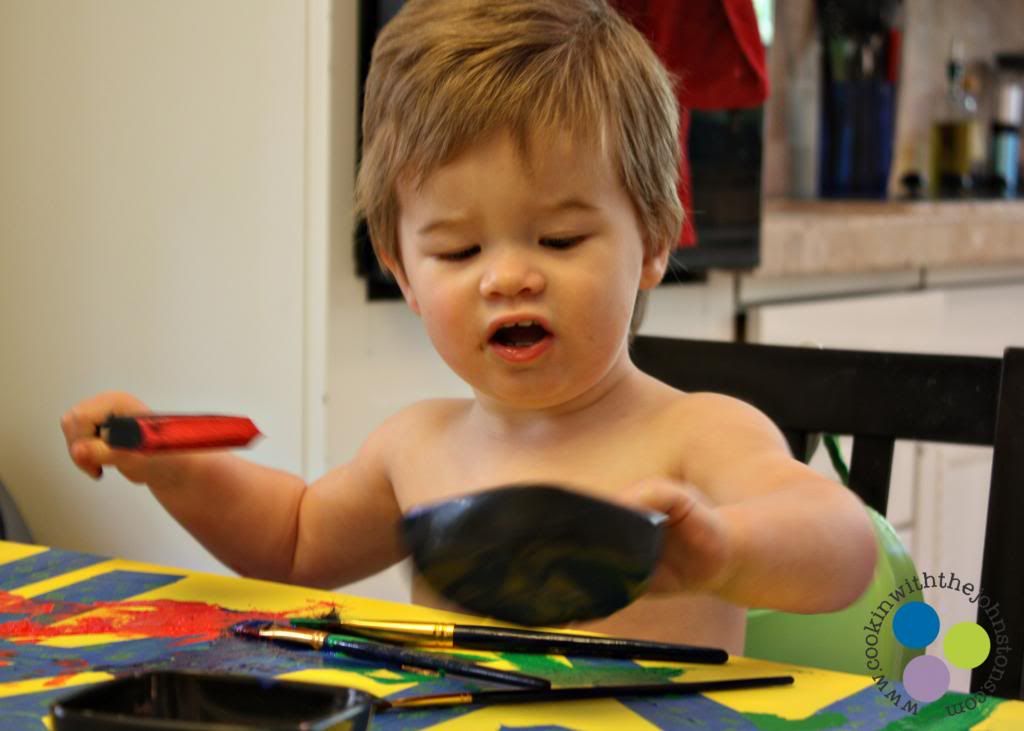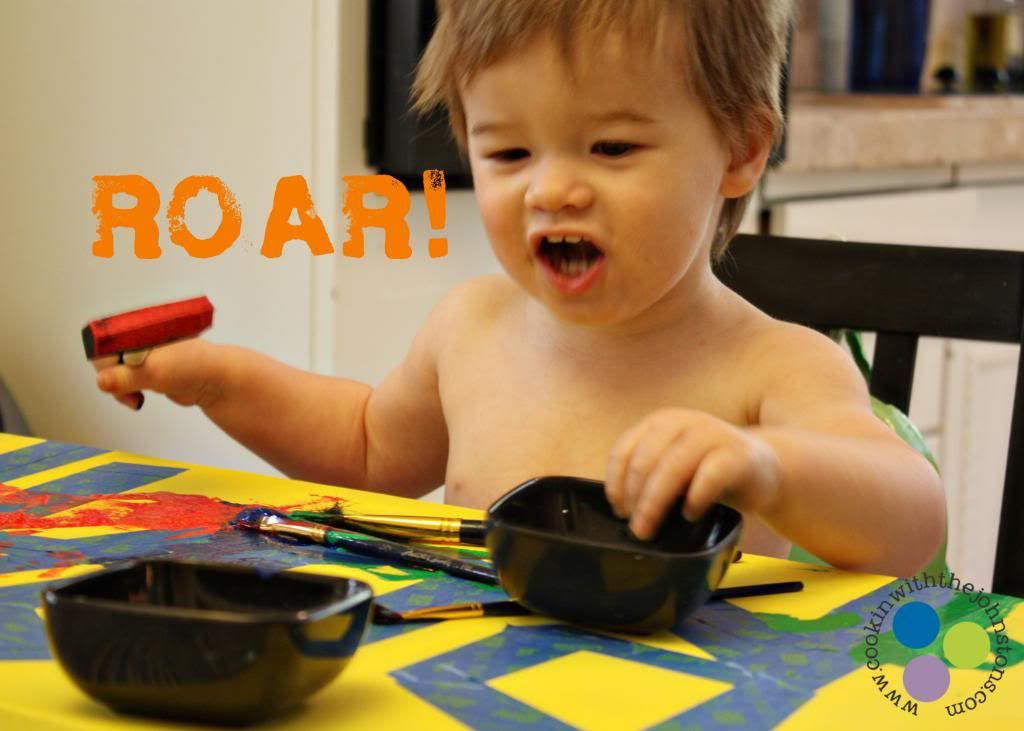 He was super excited when we talked about what he was doing. He makes crafts at school, but we don't paint much at home with him, so we weren't really sure what he was going to do. He liked talking about dinosaurs while we painted.
Until he was done.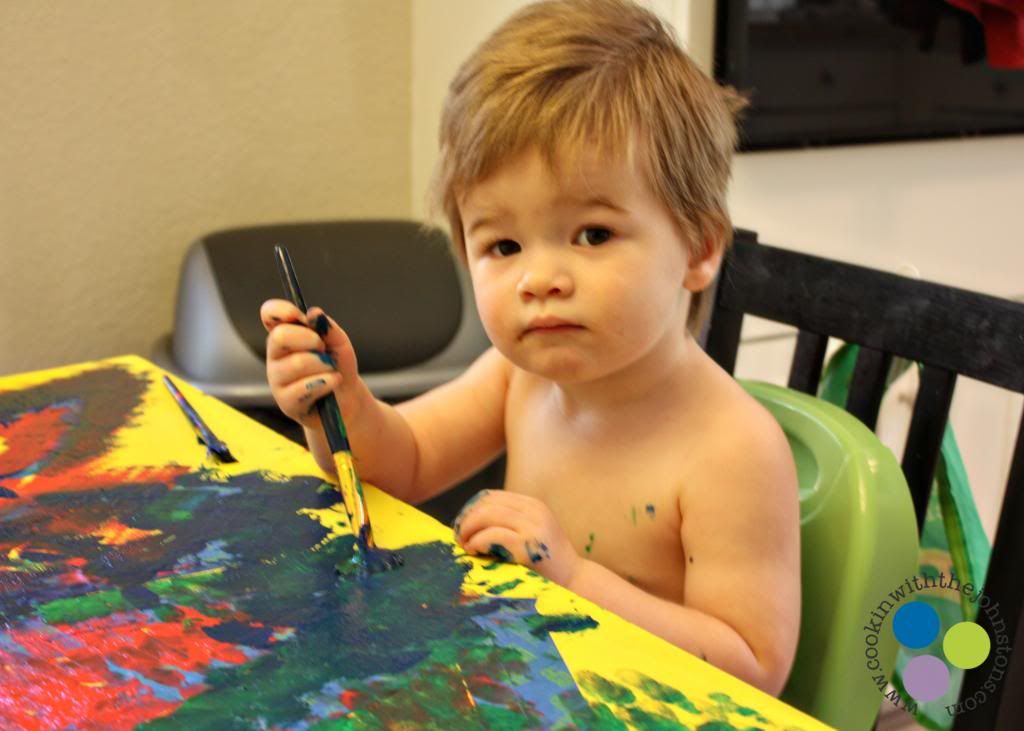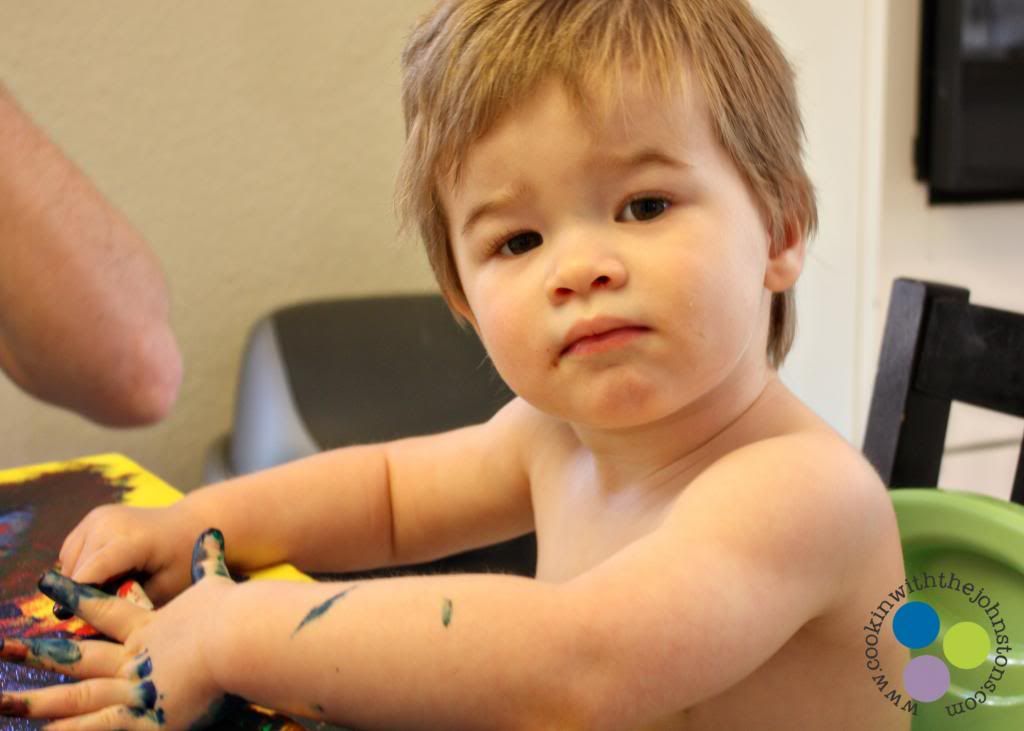 Don't worry, that's just a crumb on the corner of his mouth, not paint!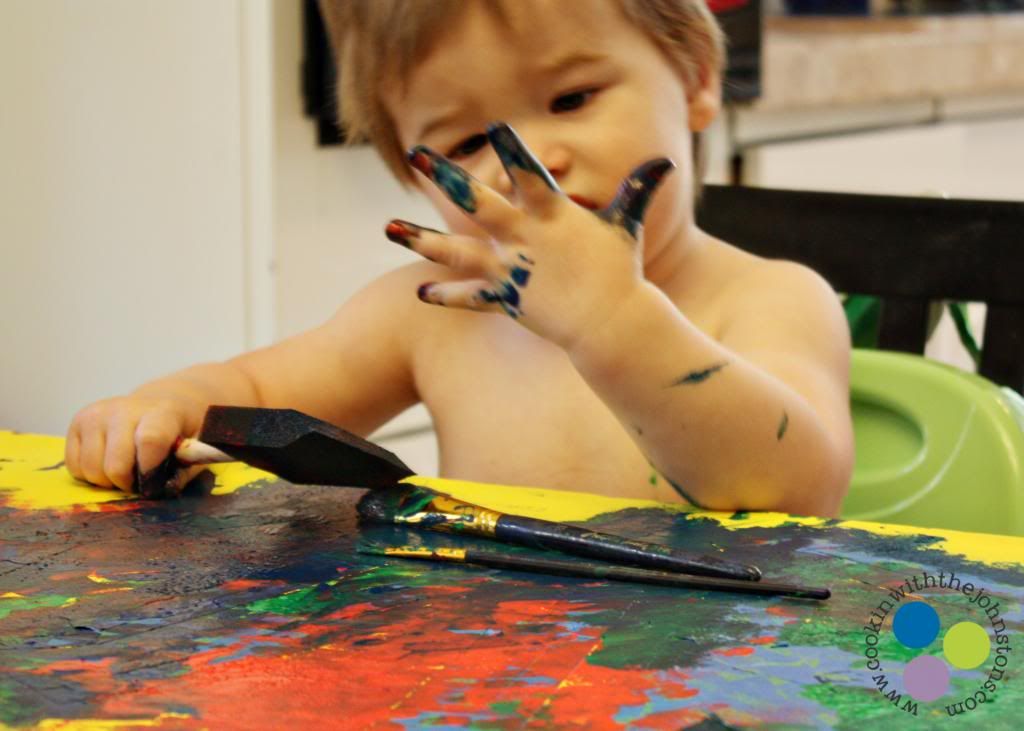 Thankfully by the time he figured out that he had paint all over his hands and it wasn't coming off, he was just about done! We moved the canvas around to try to get all the edges covered. It helped that we used a long and narrow canvas rather than a square one because he was easily able to reach the whole thing from his chair.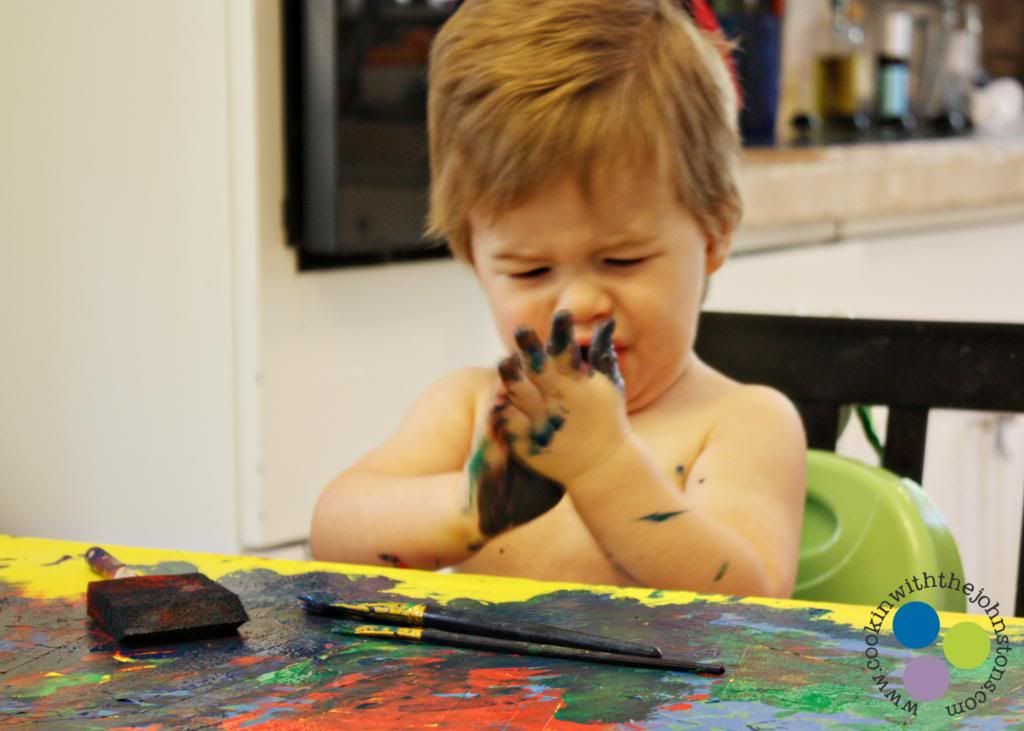 Immediately after this picture was taken, Jarrod and I went into crazy-parent mode. We scrubbed down Wesley and got his hands clean. He no long thought that painting was fun. Thankfully, we were done and felt really good about the canvas! Wesley had fun and was off playing with cars before we even got the brushes in the sink.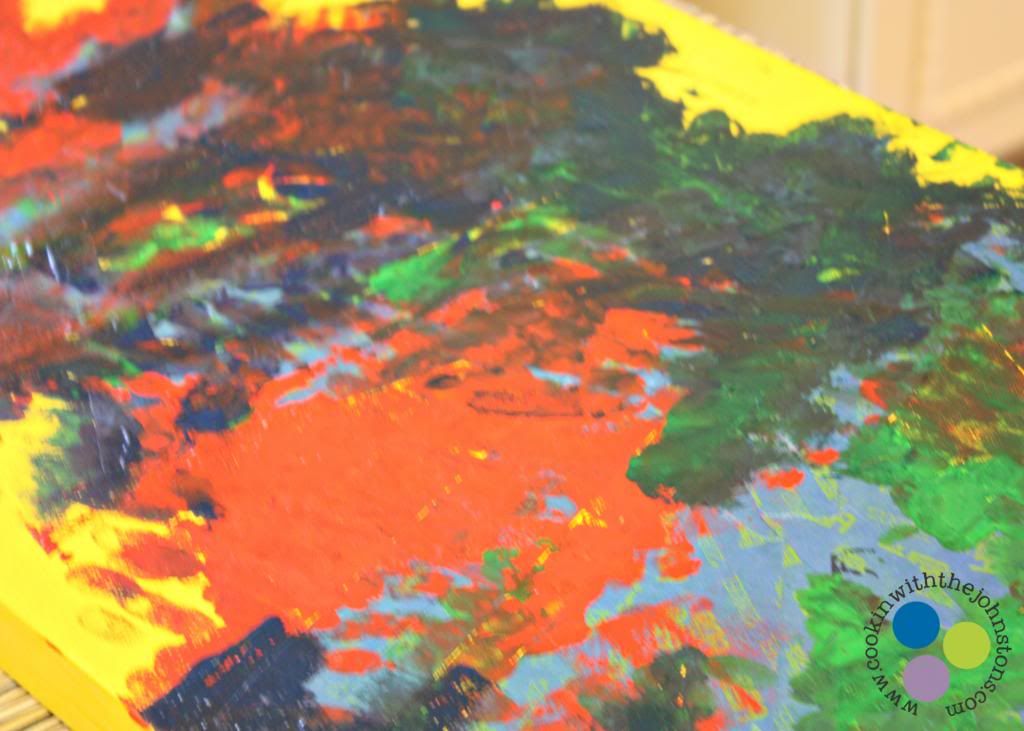 We waited for the paint to mostly dry before removing the table. I know waiting for it to dry completely runs the risk of pulling off the paint with the tape, but I wanted to wait long enough to not mess up the awesome and skillful design.
Jarrod asked if it would take 3 days to dry. No, just 30 minutes or so!
Later that afternoon I pulled off all the tape. I was careful and did it on the protected table because it was still a little wet. The tape came off perfectly and left all of the paint on the canvas. Thankfully! We put the canvas in a room with the ceiling fan on and it was completely dry in a few hours. We hung it in Wesley room after his bath but before he went to bed that night.
The yellow is a little bit brighter than I intended, but it's growing on me. Once we get more color in the room, I think it will be much better. We have a lot of ideas to continue the not-so-cutesy dinosaur theme in here. As you can see from the above picture, I created dinosaur silhouettes for above Wesley's crib. I found the images on google, made them white on a colored background, printed them out, and put them in the
frames that were already there
.