This was a very unique Christmas for us. The entire time Jarrod and I have been engaged and married, he has had to manage the music for several (many) worship services on Christmas eve. We have had a few Christmas eves that included being done with church by about 9:30pm, but that is the earliest. And we've never had Christmas eve together as a family. This year was different and it was fabulous!!
We spent Christmas eve morning and early afternoon eating lunch and doing some random acts of kindness around town. Jarrod preached at the 4pm service at our church. Wesley and I attended and had a serene worship experience.
The above statement is only true if serene means cheerios everywhere, screaming, and literally flying over people to get Wesley out while Jarrod was preaching about our birth story. Needless to say I sweat a lot. :-)
After church, we came home and took this family photo selfie in front of the Christmas tree. Wesley is always more interested in the camera than smiling... After dinner, we put Wesley to bed and got to putting his Christmas presents together!
These are my two favorite gifts we got Wesley - his activity table and his new dino slippers. The activity table is amazing and we adore it. We worked together to design it, bought all the wood, Jarrod built it and I painted it. A true labor of love. We set it up in his room before we went to bed so it was there when he woke up. We even built some towers on it our of his new legos!
When we finally tore him away from the activity table, this is what he found under the tree! We opted to put all of his presents from us in his stocking or unwrapped under the tree. The other wrapped gifts are from family.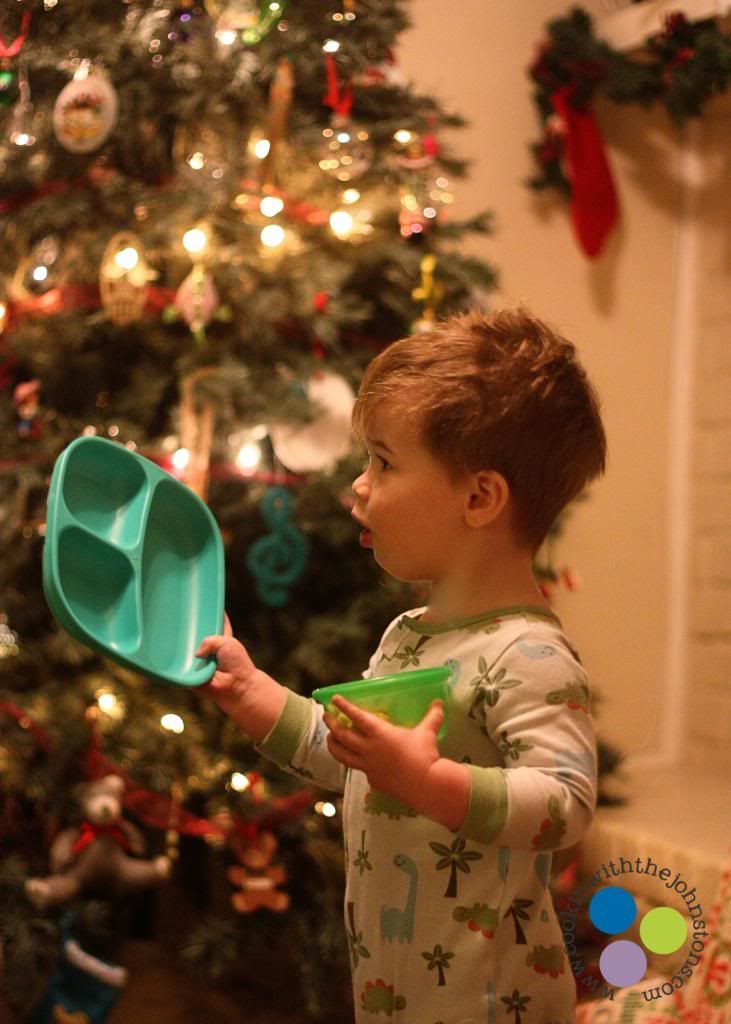 I love that he thinks plates are a good gift... They are pretty awesome - free of all the bad stuff, plastic, thick, and made of recycled material! (Want to buy some? They are:
Re-Play Divided Plates
and bowls
)
I love this shot because Wesley's excited about his new bowl while holding his old bowl and dumping cheerios on the floor. Lucy the dog is very happy!
We had a lazy morning (mostly because our kid woke up at 6am!). Once presents were opened, we had a delicious breakfast of pancakes and played with our toys. I went for a long walk and we packed up to go to see the rest of our family.
First stop was Johnston family Christmas! Wesley loved it, got lots of presents, and followed his sweet cousins around.
After as much fun as humanly possible, we left the Johnstons and drove to Oklahoma City to see my sister and her family. It was a very short trip, but it was great to see her on Christmas. Wesley was a champion in the car. It was chaotic, but great.
All in all, a perfect Christmas!