Wesley turned 2 on Saturday and we had a little party to celebrate! Wesley LOVES balls but rather than have a sports-themed party, I opted to have a polkadot themed party. His room is navy and orange, so I chose those colors for the theme. The woman at the fabric store was confused about my color choices, but I think they look great!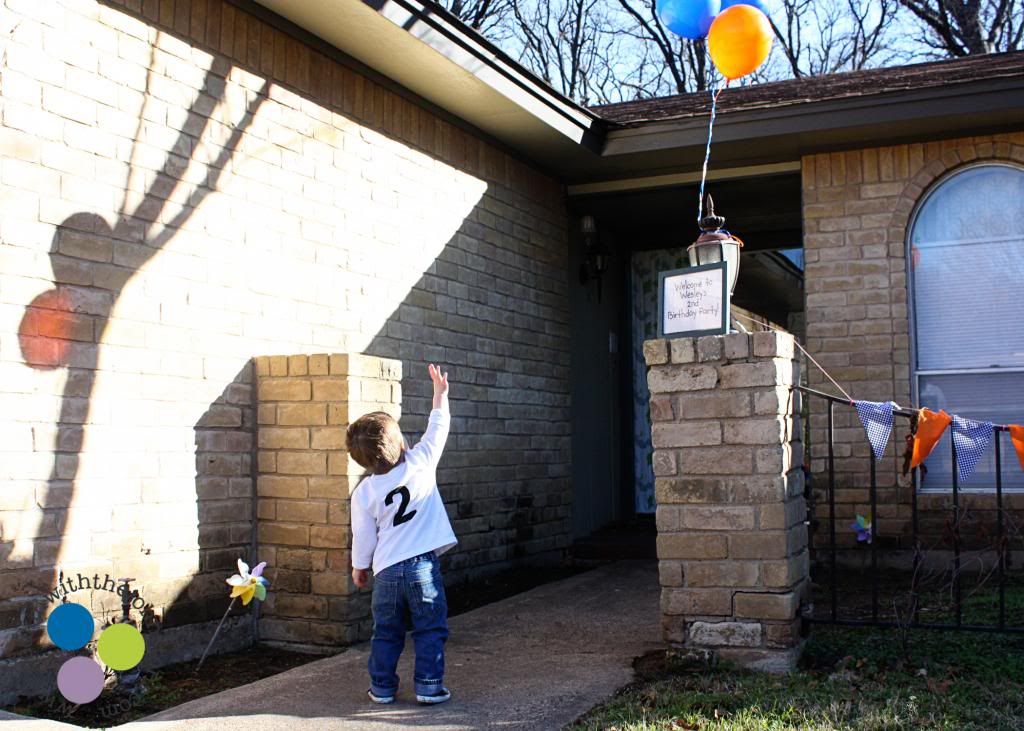 We opted to keep things really simple. Balloons, orange and navy fabric, and simple snacks. As people arrived at our house they were greeted with these cute pennants on the fence.
You can't read the sign, but it's this:
in a blue picture frame we already had. I tied it to a light with twine. The balloons were also tied to the light. Everyone knew for sure this was the place to party!
I wanted to display the party favors in a creative way. Jarrod didn't like this, but I tied them up in the entry way so you couldn't miss them when you arrived.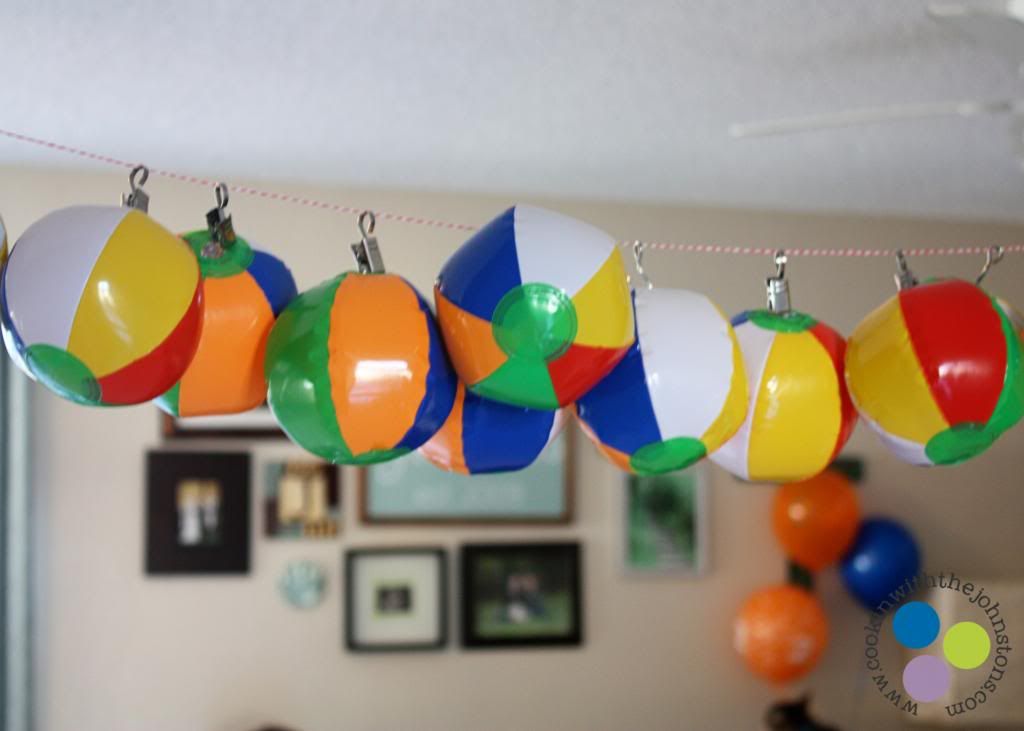 Every child (and some adults!) left with a mini beach ball! It was a reminder that they had a ball at Wesley's party!
Duck under those beach balls and turn to the left. There's the simple decorations in the kitchen. The pennants are just like the ones outside, but these are sewn to a ribbon. The ones outside were simple threaded onto twine. Not as stable, but I will likely need to throw them out. The inside ones can be used again!
The high chair is the same one we used for
his party last year
. The simple snacks were all on the table in the kitchen. I made the table cloth - the pennants were made from the scraps, so the decorations were very reasonably priced!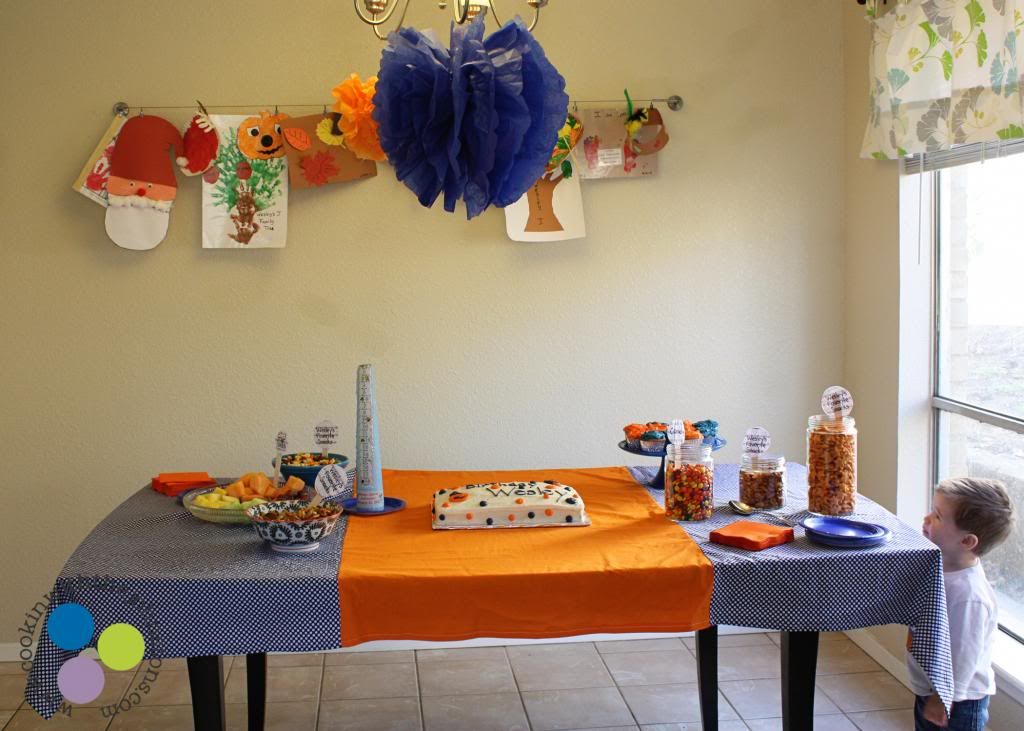 Wesley was gaming for a little pre-party snack. We had cheddar stars, goldfish, pretzel goldfish, a fruit plate, chex mix, the cake, Reese's pieces, and homemade cupcakes.
I bought three jars from Hobby Lobby for some snacks. I created the labels and just glued them to popsicle sticks and put them in the jars.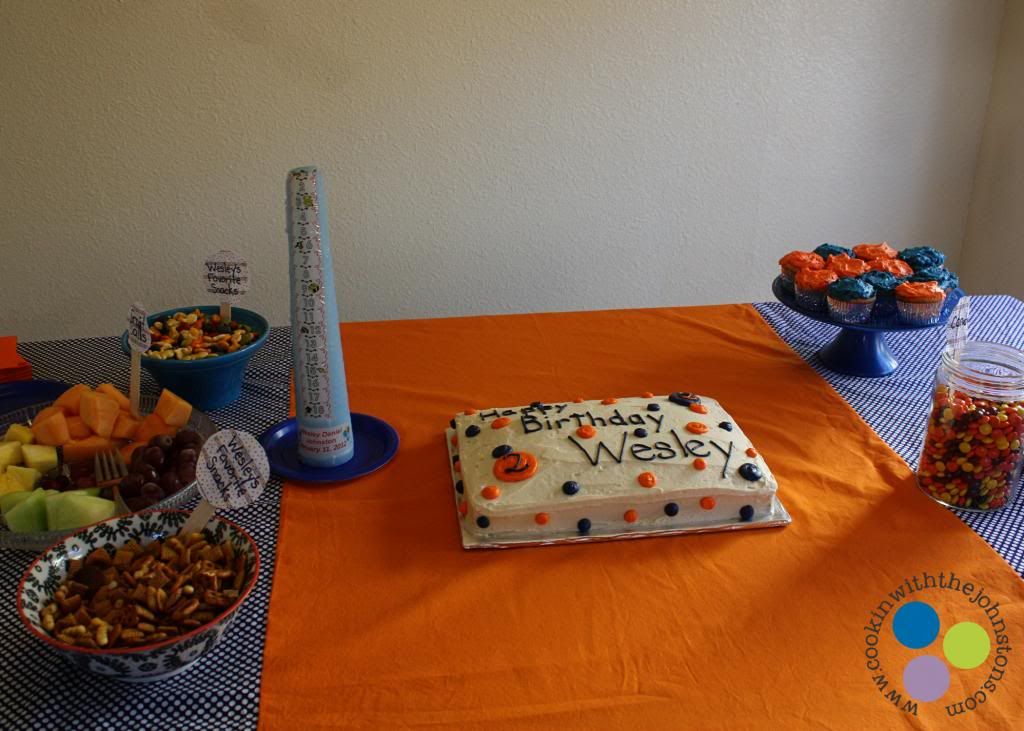 Typically when we entertain we make a lot of food. We have dips, sandwiches, chips, and lots of snacks. I am so thankful that we went the simple route this year. There was minimal clean-up and almost no prep at all. It was perfect!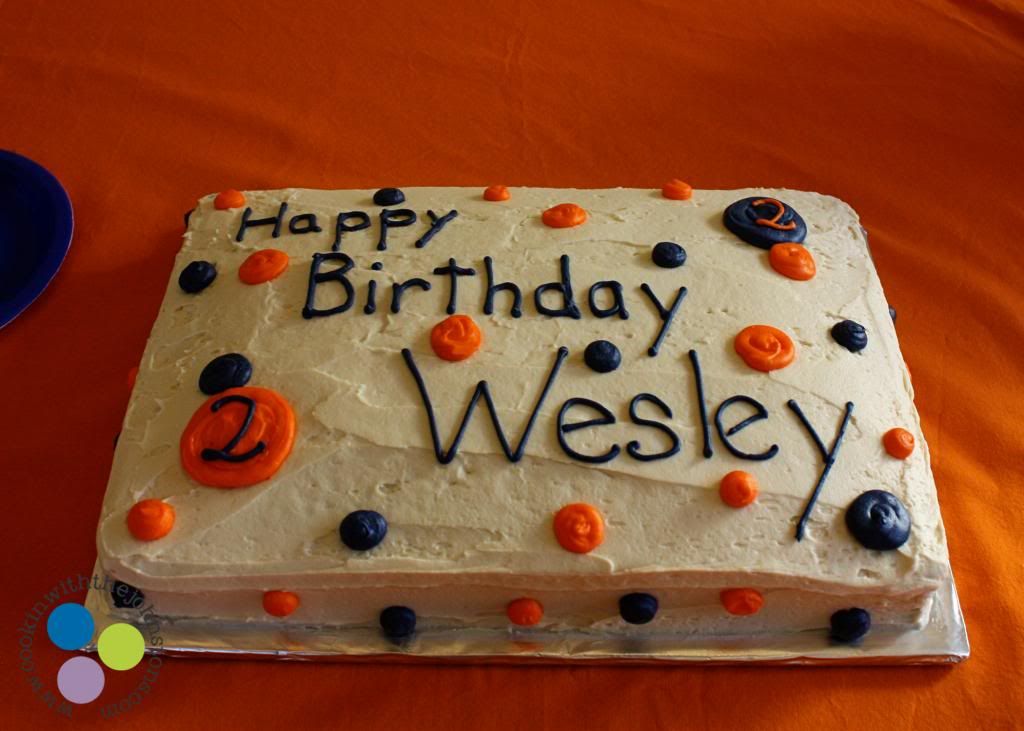 We had a church friend make Wesley's cake. It was not only delicious, but perfect! It was exactly what I was hoping for. Simple, polka dot, and orange and navy! Perfect!
Of course eating the cake was my favorite part of the party. Wesley couldn't wait to get the cake on his tray!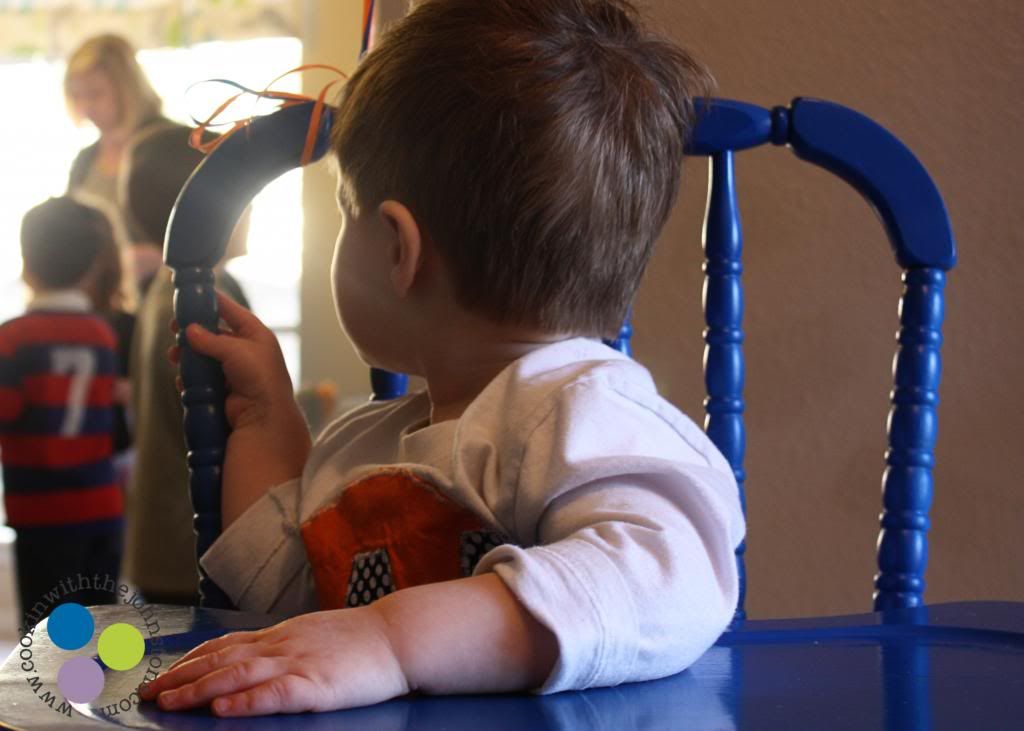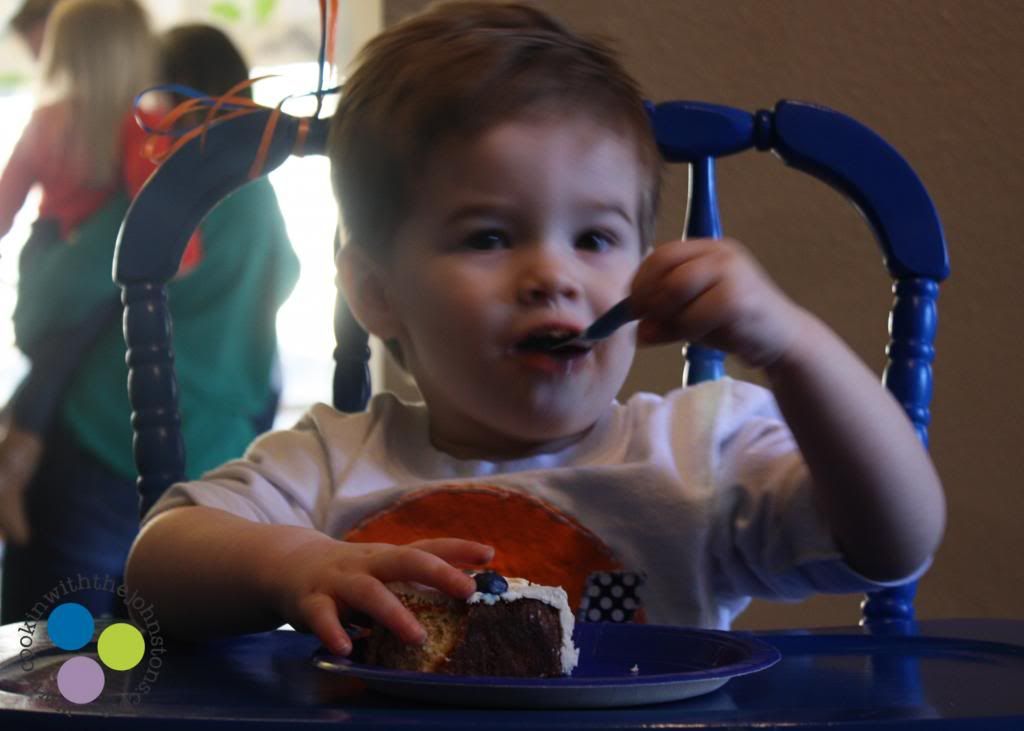 YUM!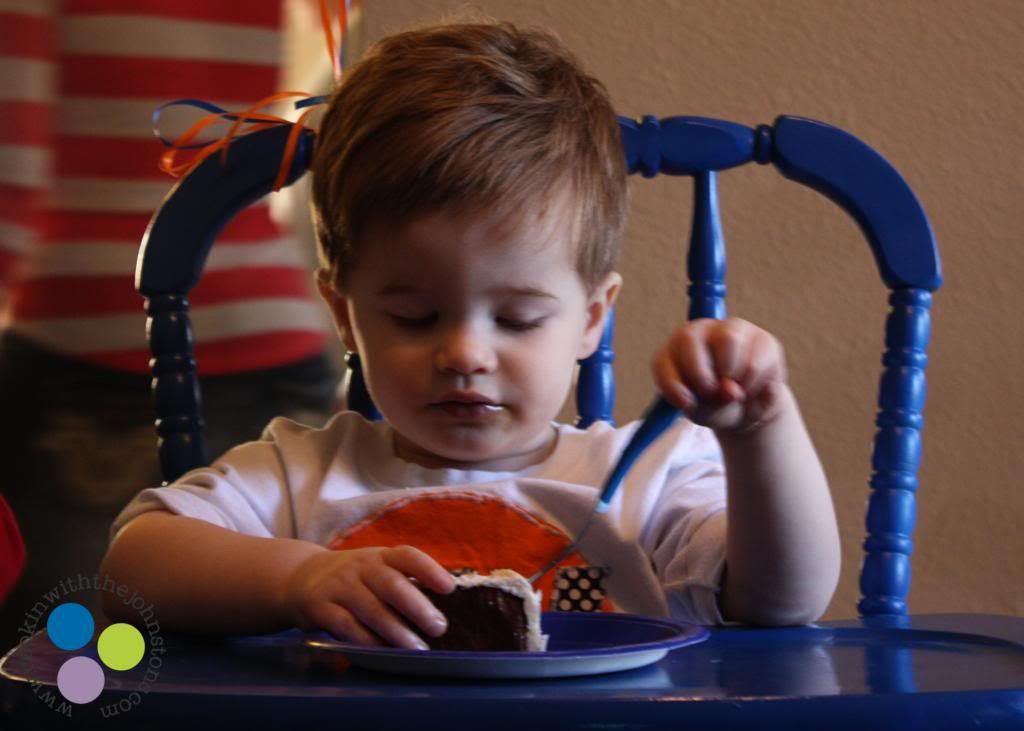 The cake was delicious, but the icing was Wesley's favorite part!!
After cake, the weather was so gorgeous that we sent everyone outside! I got great pictures of kiddos and adults running, tossing balls, and playing. I plan to take all of those photos and creating a book for Wesley. He LOVES reading "Wesley books" and I think it will be a great way to remember his 2nd birthday. There are so many people that adore him and I want him to remember how loved he is.