The time between leaving the hospital and when we felt comfortable making this official to the world was uneventful. It was a lot like giving birth to a newborn. We were figuring things out as a new family of 4. We were up at night, learning the ins and outs of formula feeding, and entertaining our boy. Of course I didn't have to deal with recovery, which made things a little smoother. Instead, the pain of post-birth was replaced with the fear of losing our baby. We still were not the first people in line to claim her. Even after her birthmom terminated her parental rights when she was 5 days old, her birth father still had 26 additional days to use his paternal rights.
I tried hard not to live in constant fear. I'll write more about my feelings during that time in a separate post, but suffice to say, it was a tough time. We knew going into this situation that day 31 was magical. That was the day that paternal rights could be terminated. That fell on a Saturday and our attorneys cautioned us that it could take a few business days before we heard anything.
On Tuesday afternoon around 4pm Wesley was beginning to wake up from his nap. We were at a lake house with some of our dearest friends. Jarrod and I were at the house with sleeping Wesley. Sister was watching us make dinner while the rest of our crew was swimming. My phone rang. "LAWYER" flashed across the screen. I hushed Jarrod and answered the phone as calmly as possible.
"This is Leanne."
"Good afternoon, Leanne. This is ATTORNEY. How are you doing?"
"Great..."
"How's that baby girl?"
"She's great. Do you have good news for me?"
"I do. Paternity registry came back clear. I'll walk the termination papers to the judge tomorrow morning."
This news meant that we could move forward with the adoption uncontested. No one else had rights to our baby girl. This was the news we were waiting for. This was the reason to celebrate and share Sister with the world. We could finally go official!
The attorney made sure that I made an appointment with our social worker to schedule the post-placement study. As glamorous as this moment sounds, I was also watching Jarrod clean up our kid who had wet the bed while learning that our daughter was going to be officially ours soon. It was perfection.
I got off the phone, filled Jarrod in, and cried. We made plans to go to the pool to see our friends, but I first texted them the news. I wanted them to know that I was crying happy tears. At the pool there was also wifi, which we needed to finally share the news with the world. We went "facebook official" that afternoon.
Our dear friends celebrated with us that night. We had a champagne toast and it was beautiful.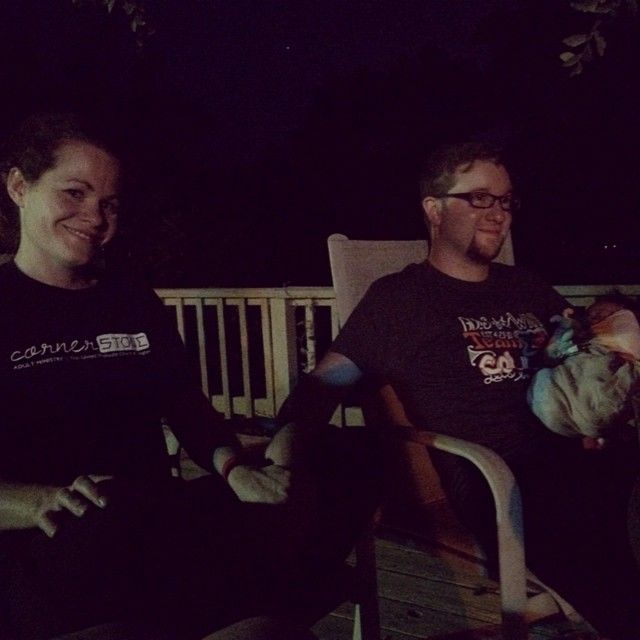 The next morning I left the family and went for a walk near the lake. It was beautiful and peaceful. I gave thanks for the incredible blessings of a precious birth family, a healthy baby girl, and a beautiful family. I listened to a podcast and when I got down to the lake, I checked my phone. An e-mail popped up from the attorney.
Our official termination paperwork. Signed by the judge.
I got excited and anxious. I opened the email and waited for the attachment to download. I immediately opened it and began reading. With Sister wrapped up on me, I sat down on some rocks and sobbed.
Termination paperwork is tough, y'all.
The wording is incredibly clear. There's no way to misunderstand what has happened - all parental rights are terminated - FINALLY AND FOREVER.
Of course this is good news for the Johnstons, but it was very sad to read. Obviously I know that this paperwork in no way eliminates her birth family from her life. They very much still have an important role. But it makes things official in a painful, crazy way.