If you don't read
Rage Against the Minivan
, I highly encourage you to click over there now. I love the column
What I Want You to Know
and read it regularly. I recently read one that has stuck with me for two months:
What I want you to know when having a family does not come easily
. The woman writing shared her heart about infertility, miscarried adoptions, and heart-break.
My heart broke for her and her husband. She was experiencing a pain I didn't know anything about. Somehow I felt part of her pain.
It can be hard to hold in one hand the knowledge that I can never give birth to a child, and then to hold in my other hand those who adopt who can have biological children. I know they feel called too, but sometimes that scary voice of scarcity and lack lies to me and tells me that there will not be a baby for us because all the younger Fertile Myrtles are adopting them up! I never want to begrudge someone their family, but I also want one of my own. Adoption and infertility bring to light lots of places where I have to hold in tension things that feel opposite to me and trust that which I cannot understand. (source)
I am that "younger Fertile Mytrle" that chooses adoption. I've given birth to a biological child and feel called to adopt. I know that voice of scarcity because it speaks to me in the form of guilt. Why did we get a baby when there are lovely, deserving families who cannot have biological children? We are not better parents, more qualified, or somehow deserving. So why us? This question and guilt lives in direct tension with the knowledge that our baby girl is meant to be in our family. I feel so confident in our call to adopt and know that this child was placed with us, but wonder why we were chosen when we could have another child the "traditional" way.
Many stories of adoption are also stories of infertility. It is adoption month and this weekend is
National Adoption Day
. In honor of that celebration, I wanted to share my feelings about adoption and fertility. Infertility isn't part of our story. I feel guilty because of our successful infant adoption because it means I took a baby from someone who couldn't have one. I feel overwhelmed that we got this precious, perfect baby when other spend years, thousands of dollars, and painful treatments trying to get a baby. It all overwhelms my heart because I really want everyone who wants a baby to get a baby. I want to be like Oprah... "You get a baby! And you get a baby!!"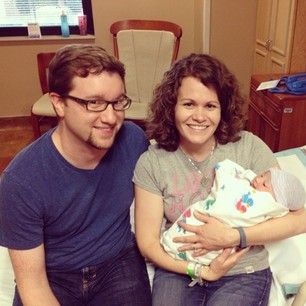 In the middle of that guilt, is the confident knowledge that Sister was meant to be part of our family. Her birth family was also meant to be part of our family. We needed them in our lives and have a unique relationship with them. The birth family relationship is crucial for us because of our open adoption. This is something I gave a great deal of thought and prayer for years prior to our adoption. I prayed for the family that would experience loss. I prayed we could bring them peace in a difficult and sad situation. I prayed for them specifically, knowing that for us to get a child, a mother would experience intense pain.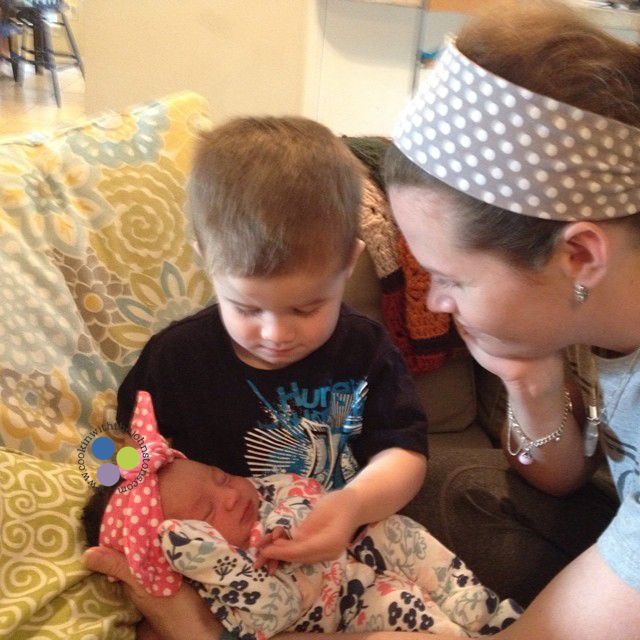 In our adoption situation, there are many folks that are affected by our daughter's adoption. Her birth mother, grandmother, aunts, uncles, great aunts, friends, cousins, great grandmother, and other family had to change their relationship with this baby. They have experienced loss. They have put their trust in my family to give this baby everything we can. Our baby will always be part of them.
Even in closed adoptions, a relationship exists between the birth family and the adoptive family. There is a forever connection. There is a responsibility. I feel a strong sense of accountability to be the best mom for Sister because I owe her birth mom my very best. A birth family might never know how their child is doing, but the bond is still there. We pray for our birth family, talk about their love and sacrifice, and adore them for blessing our family with our daughter.
The relationship we have with our birth family is unique and I am confident in the fact that God brought us together with purpose. We have an opportunity to share love and grace with a family we might never have known. Our family fits together with their family in a way many others might not. We understand each other, have amazing things in common, and are sensitive to the depth of this situation.
I pray for those mamas who's arms are empty tonight. I pray you are chosen soon. I do not believe that everything happens for a reason, but I do believe that God takes messes and makes them beautiful. I believe that God creates purpose out of chaos. I was not meant to give birth to Sister but I'm so thankful many chose our family to give her life.